Blak Outside 2021
The second Blak Outside Festival takes place four times in 2021 starting online 22-25 April, with various collaborations with individuals, groups and institutions. The festival starts on Thursday 22nd April, the third annual Stephen Lawrence Day.
The festival is a culturally diverse inclusive event for community workshops, commissions and education and online talks. We are hoping that for the 150th birthday anniversary of Peabody Blackfriars housing estate in Southwark, London, we will have a sliding scale charity houseplant sale, workshops, film screenings, live streamed DJ sets, online seminars around the history of housing and land linked to the largest council housing estate in Europe, Becontree in Dagenham, Essex. Becontree will celebrate is centenary and Blak Outside has a commission with Create London at The White House.
Dates of Blak Outside Festivals in 2021
April 22-25
Stephen Lawrence Day
Online
July 16-18
Peabody Blackfriars 150th
Southbank, London & Online
Includes charity houseplant sale*
August 14-15
Becontree Centenary
The White House, Dagenham, Essex
October 22-24
Black History Month
Online
*Charities who will receive a donation from the July plant sale:
Stephen Lawrence Day Foundation
Ella Roberta Family Foundation
Black Thrive
Black LGBTQIA+ Therapy Fund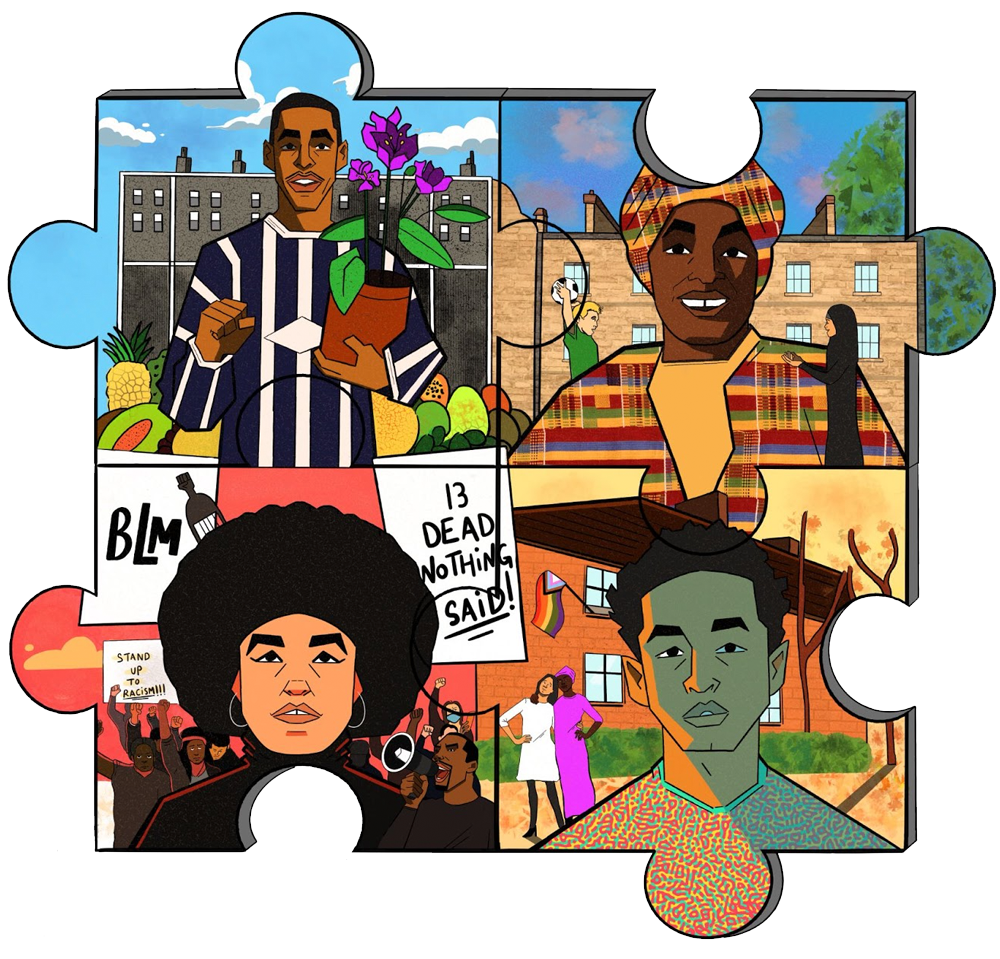 Who's on the Jigsaw
April Festival: Stephen Lawrence (1974–1993)
Please see the home page.
July Festival: Theodora 'Dora' Boatemah (1957 – 2001)
Ghanaian born social housing activist and Director of Angell Town Community Project (ATCP). Dora's organisation worked with five architectural practices to lead her fellow residents in the redevelopment of the rundown Angell Town housing estate in Brixton, South London.
August Festival: Jaden Smith (1988 – )

For the White House residency on the Becontree, Dagenham, Essex we've chosen the very resilient actor, singer and environmental activist, Jaden Syre Smith, native of Malibu, California. Why? Because we will be looking at the nearby Hainault Woods, the environmental impact of the estate in it's 100 year existence and what the environment means in a celebrity driven age.
October Festival: Dr Angela Davis (1944 – )
This scholar, a native of Birmingham, Alabama, US is well known for her work on racial justice, women's rights and prison reform.
Dr Davis is an educator, activist, former Black Panther party member and civil rights activist the embodiment of resilience for us.